Dear patients, here is some practical information about my practice.
At the Muette Practice, I run a general eye clinic to evaluate your visual acuity, detect ophthalmological pathologies (such as glaucoma, AMD, corneal and lenticular and retinal pathologies) and treat previously diagnosed pathologies.


Since 2004 I have been working as a Surgical Ophthalmologist, specialized in the treatment of cataract (A. de Rothschild Foundation and the Muette Surgical Clinic) and in eyelid surgery and the treatment of pterygium.


At the Muette Surgical Clinic I also carry out YAG laser treatments for secondary cataracts and iridectomy (glaucoma).


At the Practice, I also do minor palpebral surgery as well as cosmetic treatments such as botulinum toxin and hyaluronic acid injections to fill wrinkles and dark circles.
Consultations d'ophtalmologie
Dépistage et suivi de pathologies ophtalmologiques comme la cataracte, le glaucome, la DMLA, les pathologies rétiniennes et cornéenne
Chirurgie de petites lésions palpébrales (prise en charge de chalazions, papillomes, kystes des paupières…)
Esthétique du regard: Injection de produits de comblement (acide hyaluronique) et de toxine botulique
Lentilles de contact avec correction de la myopie, de l'hypermétropie, de l'astigmatisme et de la presbytie
Parutions :

Chirurgien-Ophtalmologiste, conventionné secteur 2
Membre de la Société Française d'Ophtalmologie
Ancien Assistant des Hôpitaux;
Ancien Praticien Hospitalier
Ancien attaché chirurgical à la Fondation A. de Rothschild
Chirurgien à la clinique de la Muette
Diplôme Médecine et Chirurgie en 2000
Spécialiste en Ophtalmologie en 2004
Diplôme Inter Universitaire de « Pathologies et Chirurgie Orbito-Lacrymo-Palpébrale » en 2008
Diplôme Universitaire « Imagerie rétinienne et traitements maculaires » en 2009
A SPECIALIST IN CATARACT SURGERY FOR OVER 15 YEARS
Cataract is a pathology caused by a gradual opacity of the lens which results in progressive decreased far distance vision with a loss of contrast.
This pathology affects people of differing ages but most commonly after 55.
The cataract is due to a loss of transparency of the lens, the eye magnifier, which prevents light from passing through correctly.
WHAT ARE THE SYMPTOMS OF A CATARACT?
Blurred vision, most often far distance
Reduced perception of contrasts
Double vision (diplopia)
Discomfort caused by light (photophobia) in very bright conditions (sunlight, car headlights…)
WHAT TREATMENTS ARE AVAILABLE?
The treatment always involves surgery
Ophthalmic products have no significant effect in decreasing or curbing the development of a cataract
With cataract surgery, or phacoemulsification, the clouded lens can be replaced
Phacoemulsification is carried out in an operating theatre under topical (superficial) anesthesia with the patient being sedated
It lasts about 10 minutes and is painless
The patient leaves with a transparent protection over the eye and will require a checkup the next day, a week and a month later, for the final optical correction.
WHAT SHOULD I DO BEFORE THE OPERATION?
A few days before the operation you will meet the Anesthetist to decide on the best type of anesthesia for you. A cardiovascular examination is also recommended. The day before the intervention you will be required to take a shower using Betadine and an antiseptic shampoo. Different measurements of your eye are taken so as to choose the type and strength of the intraocular lens (also called intraocular lens or implant) specifically adapted to your eye. To this end, an ultrasound of your eye (Biometrics) is generally necessary.
WHAT HAPPENS DURING THE OPERATION?
The operation requires an anesthetic, usually topical (i.e. local anesthetic eye drops) with the patient being sedated.
Phacoemulsification is carried out under a microscope in a sterile surgical environment (hospital, clinic, oculistics centre). It involves removing the clouded crystalline lens through a tiny incision and replacing it by an artificial intraocular lens.
It lasts about ten minutes and is painless.
WHAT SHOULD I DO AFTER THE OPERATION?
If the general condition of the patient is good and if the anesthesia is light, it is possible to leave the clinic in the hours following the operation.
The patient leaves with a plastic protection over the eye and will have a checkup the next day, a week and a month later, for the final optical correction.
WHAT WILL THE RESULTS BE FOR MY VISION?
The replacement of the clouded crystalline lens by an artificial intraocular lens specifically adapted to your eye should enable you to recover a perfectly adequate vision very rapidly. A discomfort could be felt during the first few weeks after the operation.
The standard intraocular lens often enables you to do without corrective glasses for far OR near vision.
Astigmatism can also be corrected by a Toric implant and occasionally, if the retinal conditions of the patient permit it, far, intermediate and near vision can be corrected by implanting a Multifocal lens. Implanting the latter is however limited to patients possessing specific characteristics.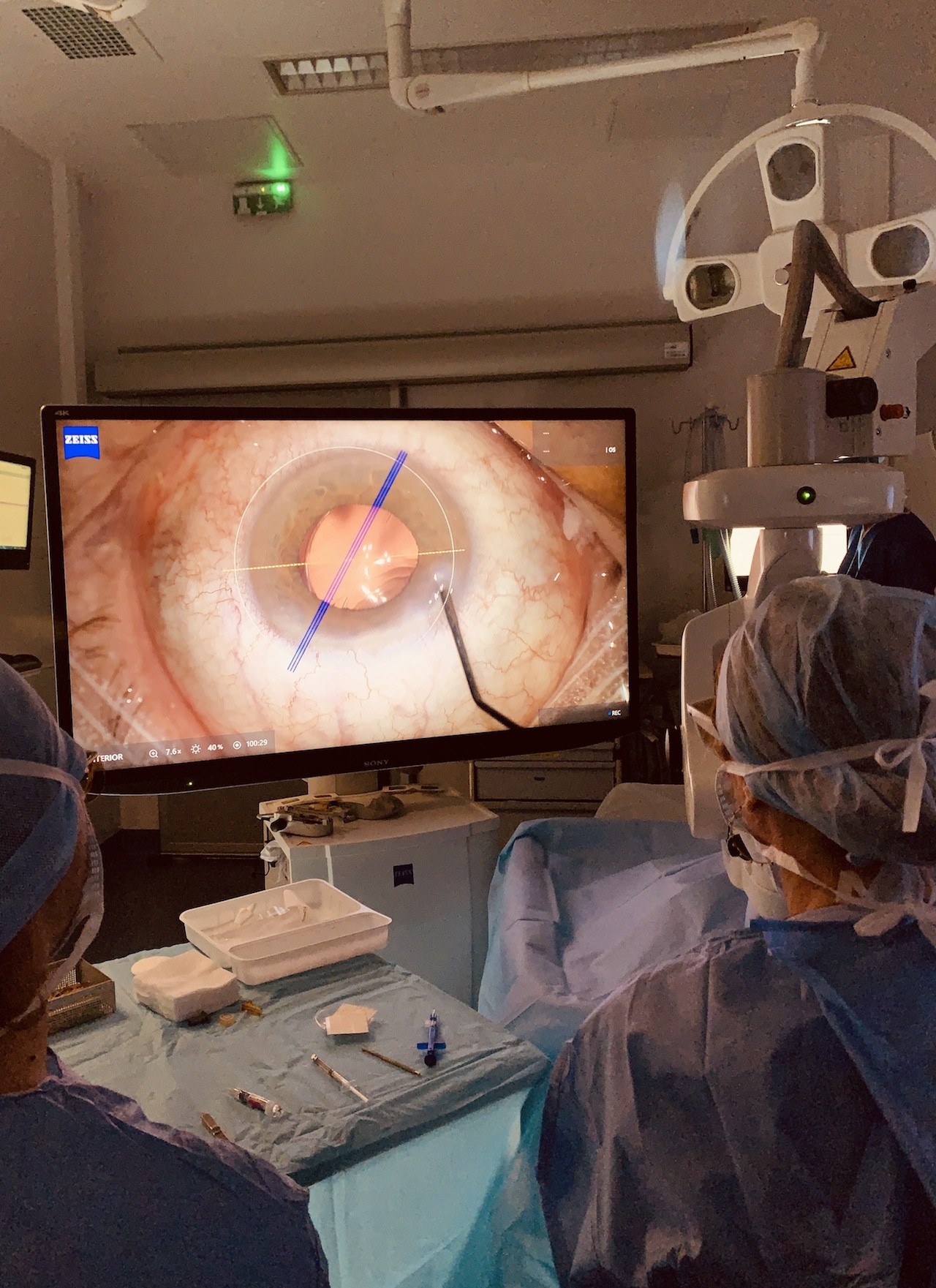 ARE THERE ANY POSTOPERATIVE RISKS?
No surgical procedure is without risk! Cataract surgery is however a routine operation, perfectly standardized and with very good results. Complications are rare.
WILL THERE BE ANY FURTHER TREATMENT?
At your release you will be given a prescription for:
eye drops to be administered for a few weeks
a plastic eye protection to be worn at night for one week
IS THERE ANY CHANCE OF THE CATARACT RECURRING?
No. But there is a chance of the capsule becoming opaque during the months or years following the intervention, leading again to a decrease in vision. It is incorrectly called a "secondary cataract".
This decrease in visual acuity can be definitively resolved by opening the capsule using laser. It is a quick, painless, minor operation which does not require any hospitalization.
An information sheet published by La Société Francaise d'Ophtalmologie is available on the link here :  cataract operation